Feedback Informed Treatment
FIT-Outcomes is a web-based outcome management system designed to support the use of the Outcome Rating Scale (ORS) and the Session Rating Scale (SRS).
With FIT-Outcomes it is possible to administer the scales online and get instant feedback. This allows you to use the system for ongoing quality assurance of the services delivered and for ongoing treatment adjustment to ensure the maximum benefit of the treatment.
FIT-Outcomes calculates the most important outcome data giving you access to the numbers or graphs. This makes it possible for single providers or agencies in the private or public sector to document the effect of the services delivered.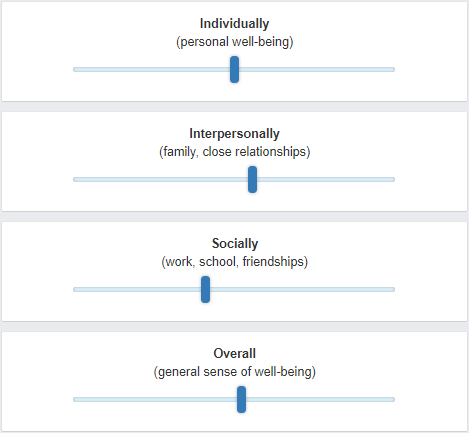 Your client data is secure with FIT-Outcomes and we're fully GDPR compliant.
The FIT-Outcomes web app runs in all major browsers: Chrome, Firefox, Safari and Internet Explorer version 9 and above.
Because of the responsive design, using FIT-Outcomes from mobile devices (e.g. iPad/iPhone and Android phones and tablets) works extremely well.
Predictive Trajectories
FIT-Outcomes uses the latest algorithms developed by leading researchers in the field. The algorithms are developed based on a sample of 427,744 administrations of the ORS, in 95,478 unique episodes of care, provided by 2,354 different clinicians.
In FIT-Outcomes the trajectories are produced immediately after filling out the first ORS making it possible for clinicians to have a transparent conversation with the client about the system feedback.
Detailed Statistics
Calculate real-time statistics and chart them based on various filters.
Multiple Languages
FIT-Outcomes supports the following languages:
| | |
| --- | --- |
| Brazilian Portuguese | Scales |
| Bulgarian | Scales |
| Czech | Scales |
| Danish | UI and Scales |
| Dutch | UI and Scales |
| English | UI and Scales |
| Faroese | Scales |
| Finnish | Scales |
| French | UI and Scales |
| German | Scales (except GSRS) |
| Icelandic | Scales |
| Japanese | UI (partially) and Scales |
| Norwegian | UI and Scales |
| Portuguese | UI and Scales |
| Romanian | UI and Scales |
| Russian | Scales |
| Somali | Scales |
| Spanish | UI and Scales |
| Swedish | UI and Scales |
| Turkish | Scales |
API
Visit our API documentation to learn how to access your FIT-Outcomes data through our API, making it possible to extract and manipulate your data in any way you see fit.
Pricing
Pricing starts at EUR €159 per year for a single user license. There are no start-up fees nor limits to the number of clients you can have. Please email us for details on mass discounts.